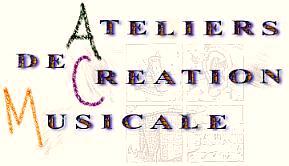 Welcome to the Musical Creation Workshops
This Paris-based school offers a full instruction in musical composition and scoring in 4 years.
The english pages give you an extract of the general site.

Contact us : &nbsp&nbsp Heaquarters : 228 rue de la Convention, 75015 Paris, France.
All pieces of music on this site are registered in SACEM. Graphics : Joëlle Kuczynski, copyright . Photographs D.R. Take a look at our links page.